Happily Ever After
Life in The Rural Retreat with a beautiful wife, three cats, garden wildlife, a camera, a computer – and increasing amounts about running
Earlier posts can be found on Adventures of a Lone Bass Player, where this blog began life. Recent entries can be found here.
---
Have Notebook, Will Travel
by admin - 22:49 on 26 April 2012
The deadline for the summer edition of Chatterbox will soon be upon us and, as there's space still to fill, I'd made a rash promise to dust off my notebook and interview a local worthy – a task I've not performed for several years.
The worthy in question was Vivienne, proprietor of The Emporium bookshop in Cromarty, who is planning retirement and sale of the premises. This will cause not a little consternation among Black Isle bibliophiles and returning tourists who've become attached to the place during its fifteen years of existence.
Fortunately, she was happy to chat and had a good story to tell – most of which I was able to recall after transcribing some woefully rusty shorthand.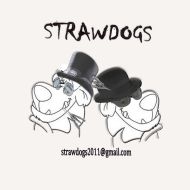 The Pentax was pressed into service as a journalistic tool for the first time. Several indoor snaps were taken but, as I don't possess a flash gun, many of them feature a gentle soft focus that I suspect their subject will appreciate. I'll tell her it's deliberate and accept any plaudits with modesty.
Band Update: Strawdogs now has its very own logo. Shame we've no gigs to go with it. Jim's return from The High Seas meant we were able to rehearse tonight but the results are mostly best forgotten. However, we now have another new song in the set (DOA, Foo Fighters) and plans to learn a handful more for next week's assembly. We'll be famous one day.
---
Add your comment
Please note that whenever you submit something which may be publicly shown on a website you should take care not to make any statements which could be considered defamatory to any person or organisation.