Happily Ever After
Life in The Rural Retreat with a beautiful wife, three cats, garden wildlife, a camera, a computer – and increasing amounts about running
Earlier posts can be found on Adventures of a Lone Bass Player, where this blog began life. Recent entries can be found here.
---
A Voyage of Discovery
by admin - 21:39 on 30 September 2010
Another blowy day in Lerwick, and for the second morning we've been unable to see Bressay, just across the water, because it's shrouded in rain clouds.

We got a much closer look later on because a visit to the island was the only pre-planned item on our holiday agenda – an afternoon at the Northern Lights Holistic Spa, organised by Matchgirl as a curtain-raiser for her birthday celebrations on Saturday.

The friends who recommended the place must have been good saleswomen, for to get there involved an epic five-minute ferry crossing of the high seas; Matchgirl made landfall unscathed, although a little queasy.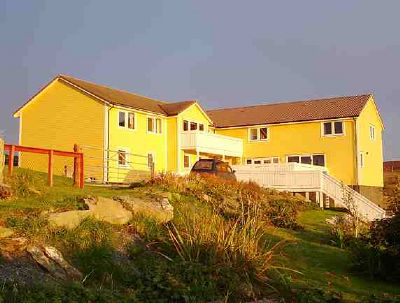 The spa was built by its owner, Paul, as an extension to the B&B he runs with his wife Vee to keep himself active after retirement from cheffing at various Shetland hotels. Some people don't know how to slow down. As it's now the off season, we had the place to ourselves – and very relaxing it was too.

It featured sauna, steam room, Jacuzzi and shower followed by crystal therapy for Matchgirl (who has hippy leanings) and massage for me. I have leanings too, caused by too many years of stooping over computer screens and ducking to get through doorways, so the occasional treatment helps keep my spine from becoming a complete corkscrew.

Matchgirl was so relaxed she wasn't even queasy when we got back to the mainland, even though the rain still fell and the wind still blew. We're hoping for better tomorrow, when Shetland is forecast to be the only dry area north of Berwick. We'll see.
---
Add your comment
Please note that whenever you submit something which may be publicly shown on a website you should take care not to make any statements which could be considered defamatory to any person or organisation.