Happily Ever After
Life in The Rural Retreat with a beautiful wife, three cats, garden wildlife, a camera, a computer – and increasing amounts about running
Earlier posts can be found on Adventures of a Lone Bass Player, where this blog began life. Recent entries can be found here.
---
Eight Of The Best
by admin - 16:08 on 16 November 2012
We have to speculate to accumulate, we're told by financial sages, so I've splashed out more of my hard-earned cash to have my eight best-selling A6 cards commercially printed (by Tigger and Co) in time for the Christmas rush.
This saves me a fortune in Epson ink, which costs more than liquid gold, and ends the fiddle of cutting and folding (for my top eight, anyway – slower-selling cards will still be produced by hand). It also means that I have enough stock to present them all wrapped up together in an eight-card greatest hits package, for sale at forthcoming markets, for the laughably good-value price of £12. I even include envelopes.
Not everyone is able to attend the markets, so as a special pre-Christmas gift I'll sell packs post-free for the same £12. To take advantage of this never-to-be repeated offer, contact me for my address (which I've no intention of putting into the interwebnet) then send a cheque and your address. The packs will go on sale through this site in the future, but with postage and PayPal's cut on top, so this is a bargain not to be missed.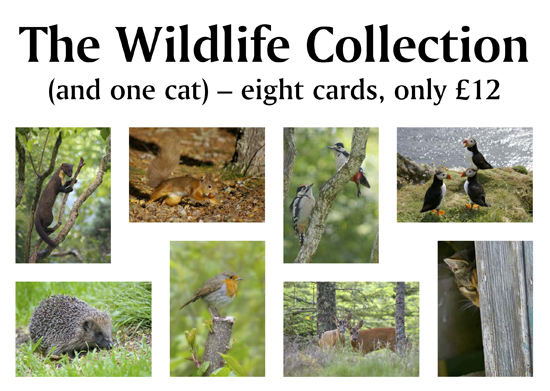 In the interests of fair play I should point out that Squirrel James also has an eight-card package available for purchase. Contact him for details.
---
Add your comment
Please note that whenever you submit something which may be publicly shown on a website you should take care not to make any statements which could be considered defamatory to any person or organisation.