Happily Ever After
Life in The Rural Retreat with a beautiful wife, three cats, garden wildlife, a camera, a computer – and increasing amounts about running
Earlier posts can be found on Adventures of a Lone Bass Player, where this blog began life. Recent entries can be found here.
---
A Grubby Nose And A Goodbye
by admin - 16:41 on 28 September 2012
It's three weeks since Maia and The Fearless Ones (great name for a band) crossed the threshold of The Rural Retreat. Maia was, and remains, all-black but the kittens' markings develop every day. Pandora is becoming a very handsome tabby, while Willow's grey fur is showing signs of silver streaks. How they'll resolve is anyone's guess.
So it was not a huge surprise when Pandora gained a smudge above her little red nose. The blot of darker fur was a shame, for it spoiled her symmetrical good looks and raised the question of what further streaks and blotches might appear.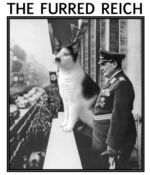 The ultimate fear was that she'd become eligible for a place on the website Cats That Look Like Hitler and join The Furred Reich, but Matchgirl and I tried not to think about that.
We shouldn't have worried. After a good wash by Maia (who has no objection to grooming kittens who spend half the day attacking her tail) the dark blot had gone. Pandora must have been nosing around the coal scuttle again, despite its temporary cover.
Car Update: Mr Ford is officially dead. The police must have known that two weeks ago, for one look at him today confirmed he'd never move again, so I don't know why they didn't tell me then. The car had clearly rolled over before its immersion by the tide: every window was smashed, the front and roof staved in, and there can't have been a passenger because he would have been crushed. I don't hold out much hope for successful retrieval of DNA.
I signed away the remains to Ross's Garage, who'd recovered the wreck and weren't too happy about it because they'll make a loss on the deal. Tough – I've lost more.
His theft happened almost three years to the day since I bought him. He's been a bit of a nuisance, and sometimes less than reliable, but no car deserves such an ignominious end. Goodbye Mr Ford. I hope your joyrider is still concussed and limping.
---
Add your comment
Please note that whenever you submit something which may be publicly shown on a website you should take care not to make any statements which could be considered defamatory to any person or organisation.