Happily Ever After
Life in The Rural Retreat with a beautiful wife, three cats, garden wildlife, a camera, a computer – and increasing amounts about running
Earlier posts can be found on Adventures of a Lone Bass Player, where this blog began life. Recent entries can be found here.
---
Gone But Not Forgotten
by admin - 21:05 on 31 July 2012
Today should have been a good one – I collected my new book, and it's fine. I got a promise from Waterstone's and The Emporium that they'll stock it; it's already on the shelves in The Storehouse. I even found a new outlet for cards – Time For Tea in Munlochy, formerly the Red Kite Cafe.
But I'll never get a snap of Tess looking at her own book, or watch a Ross-shire Journal photographer try to take a picture of a reluctant star and her proud slaves. Life can be unfair.
For the record, A Cat Called Tess is now available through her page on this site.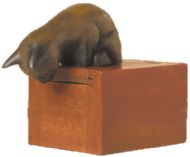 Nairn Pet Crematorium proved more efficient than they promised, for we were able to collect her ashes last night, saved in a wooden casket topped by a carved cat. It sounds naff but is rather sweet. The casket sits on Tess's shelf above the radiator, the cat peering down at the bronze mice Matchgirl bought from Mr Gardener.
There may be a few snaps of Tess to come, for I've been combing the archive today. Here's one of her getting too much love from Matchgirl – our poor puss had to put up with a lot.
Thanks to everyone who phoned, emailed or left comments. We appreciate your thoughts.
Comment from Dee at 21:51 on 01 August 2012.
That's such a lovely pic of Matchgirl and Tess. x
Comment from
Cathy
at 19:27 on 02 August 2012.
Sorry to hear the news. Tess couldn't have had a better life than with you both.
---
Add your comment
Please note that whenever you submit something which may be publicly shown on a website you should take care not to make any statements which could be considered defamatory to any person or organisation.