Happily Ever After
Life in The Rural Retreat with a beautiful wife, three cats, garden wildlife, a camera, a computer – and increasing amounts about running
Earlier posts can be found on Adventures of a Lone Bass Player, where this blog began life. Recent entries can be found here.
---
An Absence of Chatter
by admin - 18:06 on 04 March 2012
Two weeks after the first copy of the Chatterbox spring edition rolled off the press (or out of the printer, to be accurate) the print run, to my knowledge, is still incomplete.
This is not because our circulation is so widespread, but because damp-paper problems persisted. I've kept well out of it. The Chief Chatterer's blood pressure is likely to be at record heights, especially as the grudgingly retired editor is not slow to offer help and advice.
Some copies are in the shops, I'm told, and the rest should be there soon so rush to your nearest outlet and snap one up before they're sold out. Who knows if we'll manage to print any more.
Highlights of this edition are Cromarty's secret brewery, Munlochy railway memories, Rosemarkie's forgotten war hero, Avoch community centre crisis, and much more. I don't know how we managed to cram it all in. And all for only £1.30. What a bargain.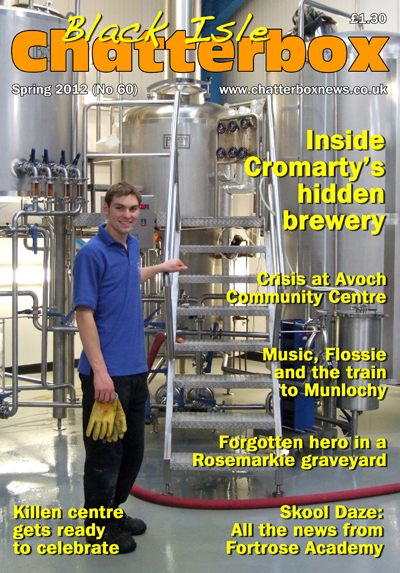 Rodent Update: An excited scuffling at the back of the cooker was investigated yesterday evening with tiptoes and a torch which I shone down just in time to see a mouse retreat into The Rural Retreat's ancient walls, abandoning the garlic bulb it was after. Who knew that mice like garlic?
So sometime soon the cooker will be hauled away from the wall, grime cleaned, plaster dust swept up and holes plugged with wire wool that can't be chewed by small teeth. Soon. Probably not today, or tomorrow, but it will be soon. Really.
The resident moggy claims she's heard nothing. It's tempting to relocate her basket to the kitchen but Matchgirl would be certain to object. Bess pampered? I couldn't possibly comment.
---
Add your comment
Please note that whenever you submit something which may be publicly shown on a website you should take care not to make any statements which could be considered defamatory to any person or organisation.