Happily Ever After
Life in The Rural Retreat with a beautiful wife, three cats, garden wildlife, a camera, a computer – and increasing amounts about running
Earlier posts can be found on Adventures of a Lone Bass Player, where this blog began life. Recent entries can be found here.
---
A Bumper Book Bonus
by admin - 23:11 on 15 November 2011
The ever-unpredictable world of self-publishing threw up another surprise today when Tigger reported that the new print run is complete and a thousand pristine copies of The Bumper Book of Black Isle Snappery are ready for collection.
As Andrew had collected 344 of them late last week, this was unexpected.
We've yet to learn how Tigger managed to over-produce so many copies. Is it lack of organisation? Or is it a cunning plan to encourage us to buy more? At least he's offered us all the extras with £1 discount on every copy.
This sounds like a good deal, but as we'd budgeted for 1,000, not 1,344, he'll have to wait for the cash. What he'd have done with the extra copies if we'd declined to take them is unknown.
The book, as those of you wise enough to have bought a copy will know, contains more than one hundred finely crafted snaps. However, I discovered today that we've been wasting our time trying to produce interesting work.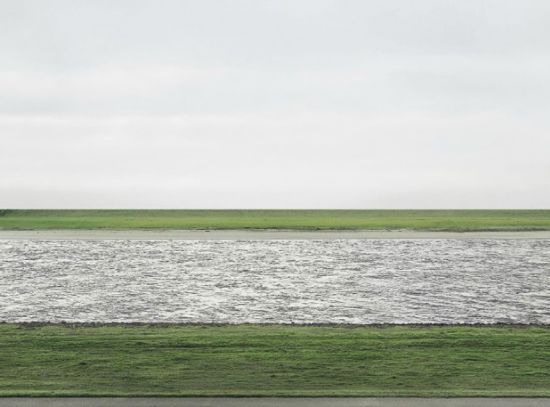 Rhein II, above, by Andreas Gursky made art history this month when an anonymous buyer paid $4.34 million for it at Christie's in New York, making it the most expensive photograph ever sold at auction.
I've no idea what size this work of art is. It might be bigger than a house but it's still, to my undiscerning eye, amazingly unremarkable. But what do I know?
Motor Update: Mr Ford returned from RM Motors yesterday with a new lease of life after a service and tightening of loose linkages. The bad news was that Richard, the spanner-twirler-in-chief, declared his buckled boot to be beyond repair. He recommended I keep an eye on eBay for a replacement. And the crack in his windscreen is now over a foot long.
So it's financially fortunate that I've been signed up for a few more weeks aboard the good ship GNoME. I'm to cover for ratings being allowed a holiday before they're chained to their oars for good. They'd better make the most of it.
---
Add your comment
Please note that whenever you submit something which may be publicly shown on a website you should take care not to make any statements which could be considered defamatory to any person or organisation.