Happily Ever After
Life in The Rural Retreat with a beautiful wife, three cats, garden wildlife, a camera, a computer – and increasing amounts about running
Earlier posts can be found on Adventures of a Lone Bass Player, where this blog began life. Recent entries can be found here.
---
A Sensitive Matter
by admin - 21:50 on 21 August 2011
Getting the hang of my new Bushnell Trophy Cam might take a while. Its first evening out produced several hundred infra red snaps in an hour; its second produced two snaps the entire night – and no living creature appeared to be in either of them.
The trick is getting the sensitivity (to movement and heat) and other parameters correct then leaving the Bushnell in a good position. I'll manage it eventually.
For the initial set of snaps I played safe by pointing my new toy at The Nutella Tree, which was almost certain to be occupied during the evening.
First seen, in the distance behind the tree, were some hedgehog-shaped blobs. A pine marten appeared half-an-hour after that and a second individual (I studied the snaps very closely) after another thirty minutes. Whether either of them was Mrs Marten I couldn't say.
Tonight the Bushnell is out again, hopefully with the parameters set correctly, pointed at a small willow log on which a selection of marten goodies has been placed. If this works, and I'm able to lure visitors into other parts of the garden, the prospects of setting up some daylight camera trap sites will be promising.
I'll have some way to go to beat James's latest camera trap success, though, taken at his secret squirrel site, somewhere on the Black Isle. Fantastic.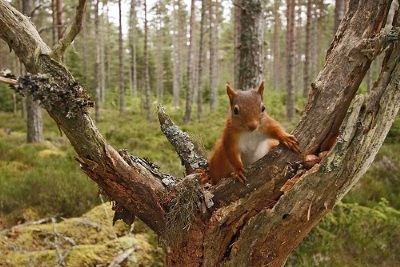 ---
Add your comment
Please note that whenever you submit something which may be publicly shown on a website you should take care not to make any statements which could be considered defamatory to any person or organisation.