Happily Ever After
Life in The Rural Retreat with a beautiful wife, three cats, garden wildlife, a camera, a computer – and increasing amounts about running
Earlier posts can be found on Adventures of a Lone Bass Player, where this blog began life. Recent entries can be found here.
---
Horticultural Plans
by admin - 21:24 on 04 July 2011
Matchgirl likes change almost as much as Bess, so she was very brave this morning when Mr Gardener came to size up the outlying areas of The Rural Retreat's vast estate.
We've had vague plans for a while to turn the wilder parts of the garden into something slightly more kempt but never quite got around to doing anything about it. Manicured flowerbeds play no part in this – just making better use of what we have in a way that will encourage more wildlife and provide a little more colour. And maybe a few vegetables.
So meeting Mr Gardener at the recent North Kessock market seemed like fate, especially as his horticultural establishment is only a short walk from the Retreat.
We visited it yesterday, in search of inspiration, and left having arranged the home visit which took place this morning. Mr Gardener threw around a few ideas, commented on the advisability of giving Bess's willow tree a trim (she won't be happy) and offered to bring in the machinery required to tame the part of our land that needs the most work. Matchgirl liked the sound of that, if it means she gets to operate some herself.
When overgrown areas have been levelled we'll be able to see exactly what we've got and decide what we want to do with it.
Fear not – change will be subtle and parts of the wilderness will be sacrosanct, in particular the area around the huge fallen pine tree limb. Pine martens, hedgehogs and all other wildlife will be protected. This could even be the opportunity to incorporate a hide into the landscape. I'll keep you posted.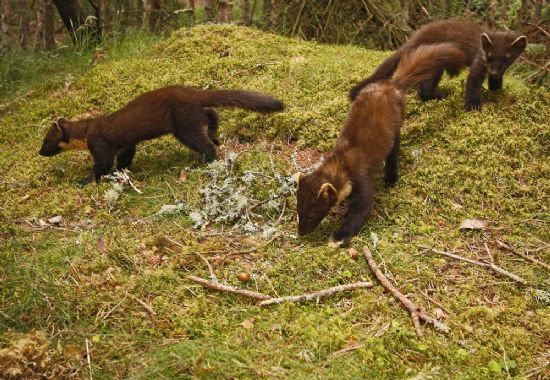 Marten Update: My taunting of No-marten James yesterday must have turned the tide, for today he was able to produce a snap (above) of a mum and two kits taken with the camera hidden in his secret location. Well done Jimmy Three Martens. Master Marten's not been back since yesterday afternoon's shock visit so all can offer is another snap taken then.
Comment from James at 22:29 on 04 July 2011.
Did my martens sign a model release form? My solicitor will be in touch!
---
Add your comment
Please note that whenever you submit something which may be publicly shown on a website you should take care not to make any statements which could be considered defamatory to any person or organisation.