Happily Ever After
Life in The Rural Retreat with a beautiful wife, three cats, garden wildlife, a camera, a computer – and increasing amounts about running
Earlier posts can be found on Adventures of a Lone Bass Player, where this blog began life. Recent entries can be found here.
---
Wild in the Country
by admin - 22:28 on 24 September 2010
Wildlife has been abundant today in and around The Rural Retreat – but as I spent most of my day indoors, completing the bike club magazine before departure for Shetland on Sunday, I didn't see any of it.

The morning featured a text from a very excited Dolphin James who after months of cultivating his very own secret squirrel, somewhere on the Black Isle, finally got photographic proof. And here it is, stolen from his Flickr site.

This is A Big Deal, because unlike the Speyside reds, who've grown used to people, the Black Isle's squirrels are much more cautious. Getting a shot like this is a real reward for much perseverance. Nice one, James.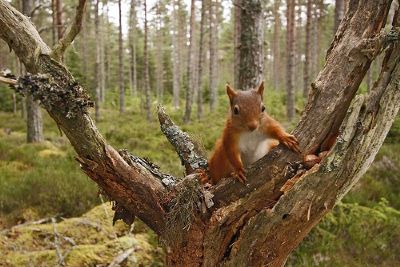 Then Matchgirl trumped his squirrel with a pair of stoats, seen scampering across the back road she'd chosen to use for her afternoon exercise. She didn't have a camera, and the sighting was brief, but that she made it at all is Another Big Deal because we'd no idea if there were any in the area.

So tomorrow we'll go in search of stoat, even though the likelihood of finding anything is remote.

The closest I came to wildlife was missing The Invisible Pine Marten by a few minutes this evening. One minute his egg was there, the next it was gone. He's a sly one.

Even Bess had more luck wildlife-spotting, and proved it by carrying the corpse of her victim to the door then shouting until we opened it to admire her hunting skill.

Maybe I'll outdo them all. Maybe tomorrow is when I find a wildcat. I can dream.
Comment from James at 00:16 on 25 September 2010.
I hope you do find a wildcat! Thanks for the publicity :-)
---
Add your comment
Please note that whenever you submit something which may be publicly shown on a website you should take care not to make any statements which could be considered defamatory to any person or organisation.