Happily Ever After
Life in The Rural Retreat with a beautiful wife, three cats, garden wildlife, a camera, a computer – and increasing amounts about running
Earlier posts can be found on Adventures of a Lone Bass Player, where this blog began life. Recent entries can be found here.
---
Northern Exposure
by admin - 23:19 on 19 September 2010
Today I went almost as far north as it's possible to go in the UK without getting very wet: not to John O'Groats, recent winner of the uncoveted Carbuncle of the Year award (and well deserved) but to Bettyhill, which is a few miles west on the north coast.

The reason for this 100-mile jaunt was to meet up with bike club members Ian D, Mike M and Father Jack and sample the delights of the Bettyhill Hotel with a view to staging a club event there next year. Despite that, Kawasaki San stayed home; I travelled through a murky, drizzly day in the heated comfort of Mr Ford. I'm definitely getting soft.

The Pentax came with me but the dreich day and flat scenery didn't inspire me to get it out; Sutherland (the south land from the point of view of Norse seafarers) is a bit of a scenic anti-climax after the drama of Ross-shire. Matchgirl, who has work to do tomorrow, stayed home.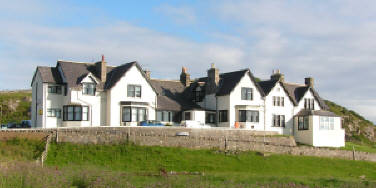 First impressions of the hotel were also a bit flat, for it's in desperate need of an exterior paint job, but the interior is comfortable and the food good. Less impressive was the bar, where we failed to take note of the fact that the locals drank canned beer rather than draught – after one sip we discovered why. Ian D, who's more forthright than me, remonstrated with the barman, who served us alternative beverages.

We spent the evening eating (my diet regime on temporary hold) and chatting, our group swelled by the addition of Bill, a cyclist one day away from completing his Land's End to John O'Groats journey. Redundancy gave him the time to achieve his ambition, so it's an ill wind, etc.

As for Bettyhill, blink when you drive through and you'll miss it, but the view across the white sand beach and out to sea is spectacular.

Snappery Update: My bid to win a place on this year's Countryfile calendar was unsuccessful, Matchgirl informed me by text. Some judges have no taste. I'll expect more from the judges of the Dingwall Camera Club Projected Imaged Competition, to whom I submitted my entry today. Hope you've got yours in, James...
Comment from James at 13:17 on 20 September 2010.
All selected and ready to post. Glad you entered.
---
Add your comment
Please note that whenever you submit something which may be publicly shown on a website you should take care not to make any statements which could be considered defamatory to any person or organisation.