Happily Ever After
Life in The Rural Retreat with a beautiful wife, three cats, garden wildlife, a camera, a computer – and increasing amounts about running
Earlier posts can be found on Adventures of a Lone Bass Player, where this blog began life. Recent entries can be found here.
---
The Story So Far
by admin - 18:51 on 20 July 2010
Did you miss us? I've managed at last to get online at our secluded Dales hideaway. Here's the story so far:

Sunday – A Damp Drive

The sun was attempting to beam through murky clouds this morning when Matchgirl and I peered through the windows of Dee's lofty mansion and beyond the rooftops of her less fortunate neighbours to the verdant Borders countryside outside the village. This was not the weather forecast we'd been given.

A few miles down the road, having taken our leave of our hostess, the sky was even brighter. But if the weather gods were punishing me for leaving Kawasaki San at home they'd grown bored by the time we entered Eskdale. Rain began to fall – so hard that when we reached Samye Ling, the Tibetan monastery, we were disinclined to leave the comfortable interior of Agent Cooper to explore this exotic outpost of the East.

The rain eased off before we reached Carlisle but returned just before Shap, supplemented by low cloud. Then, when it couldn't get any worse, it did. My decision to eschew two wheels was vindicated.


The weather gods took pity when we entered Yorkshire and turned off the tap. Maybe one of them's a Tyke. Whatever, little more than light drizzle greeted us in Giggleswick where the jolly landlord of the Black Horse led us to the holiday cottage he lets out as a sideline. It was good to unpack.

Gildersleets is a former shippon converted into four two-storey flats with all mod cons but not much in the way of views. Not from ours, anyway. The exterior walls are as chunky as you'd expect an ex-cowhouse to be; the interior ones are less so – as we found later in the evening when we turned off the TV to discover that our neighbours had been watching the same programme.

But the cottage is clean, comfortable, and a good base from which to explore wherever the fancy takes us: the Dales, the Lakes and north Lancashire are all within easy distance

We suffered only one more drama before we were able to sit, eat and relax. A previous occupant, or the jolly landlord, had coated the cooker's hotplates with a noxious substance that set the smoke alarm shrieking five minutes after I began to cook. The prankster.

Monday – A Cracking Meal

Another day, another downpour. And it all started so well.

In the morning we wandered the streets of stolid, stone-built Settle and ascertained the location of the railway station in advance of a proposed jaunt later this week along the Settle-Carlisle line. The sun beat down so strongly we bought sun screen.

While caught up in a shopping frenzy the next purchase was to be some proper walking trousers for me (active Matchgirl is fully equipped) but I quickly learned that healthy outdoors types all have medium-sized legs. No trousers could be found that didn't make me look like a Bay City Rollers fan with the tartan trimmings removed. I'm clearly not designed to be a hill-walker.

From Settle, Agent Cooper conveyed us along some back roads (the A65, like the A9, is best avoided when possible) to stolid, stone-built Ingleton, from where we drove north past Ribblehead Viaduct to Hawes. The views would have been spectacular, had we been able to see them, but cloud and rain had replaced the sun. So the landscape was merely dark and dramatic. And damp.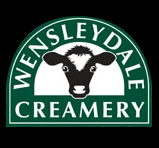 Hawes is a stolid, stone-built town – you'll recognise a pattern by now – which features many attractions, among them Wallace and Gromit's spiritual home, the Wensleydale Creamery. (Aficionados will know they live at 62 West Wallaby Street in Wigan, over the border in Lancashire.)

Cheese was to be seen, and bought, in many sizes and varieties but what took us there was the restaurant. The pork, Wensleydale and apricot cheese and sage sausages with mash, gravy and veg was a long time coming but worth the wait. Matchgirl made do with quiche.

We could have restarted the shopping frenzy with Gromit slippers, musical Shauns and Wallace statues, not to mention cheese, but we resisted and saved our money to spend at the supermarket in Settle. We arrived there via the road from Garsdale Head – a route not for the faint-hearted when covered in low cloud and lashed by rain.

The Pentax saw no action. I'll try harder tomorrow.

Tuesday – The Power of Persuasion

Another day, another downpour. With added torrents and low cloud. The local TV is full of flood reports but the hosepipe ban remains in place...


So Matchgirl proved that she has remarkable powers of persuasion by luring me into Daleswear at Ingleton where I browsed rack after rack of gaudy outdoor clothing and, to my surprise, left with a jacket of restrained colour and (only slightly too-short) trousers.

These were put to immediate use on a two-hour, four-mile trek around the Ingleton Waterfall Trail. The rain was relentless, which at least meant all the falls were full and worth the effort to reach them. Unfortunately it also meant no chance of snappery with a camera that's not waterproof.

Better weather is forecast tomorrow. We'll see.
Comment from Tim at 20:26 on 21 July 2010.
Have you been to Dent? Fabulous village and great pubs.
Comment from Russell at 21:49 on 21 July 2010.
Not been there for years. I don't think we'll have time to rectify that but you never know.
---
Add your comment
Please note that whenever you submit something which may be publicly shown on a website you should take care not to make any statements which could be considered defamatory to any person or organisation.