Happily Ever After
Life in The Rural Retreat with a beautiful wife, three cats, garden wildlife, a camera, a computer – and increasing amounts about running
Earlier posts can be found on Adventures of a Lone Bass Player, where this blog began life. Recent entries can be found here.
---
Cleaning Up For Cathy
by Russell Turner - 20:17 on 13 August 2017
The good news: Matchgirl's OBCD is calming down. This follows a visit by Mr Plumber's boss and a trusted underling to examine the installation and confirm that all is as is should be. She can now hardly wait for winter in a toasty Rural Retreat with instant hot water on tap.
Sadly, the block of plasterboard behind which our 19th century wallpaper could be seen has now been plastered over by Mr Handyman. The option remains to open up another block, for display purposes, when The Great Kitchen Makeover takes place. Whenever that is.
The only heating work left to do is to replace the faulty wireless thermostat that's not talking properly to our new boiler. Mr Electrician is supposed to call us to arrange his return, something he's yet to do. This is particularly frustrating as he took away with him my Mac's power supply unit after volunteering to test it. The diddy battery that also may be the source of the Mac's failure has arrived but I can't test it until the PSU is in place, and working. I'll be patient.
In the meantime we've been busy putting the Retreat into as much order as is possible, under the circumstances, ahead of a visitation by Cathy The Runner on Friday before she and Matchgirl run the Nairn Half Marathon on Saturday. I can't wait to share their conversation about sprains, diet and running shoes. Much cleaning and tidying has taken place – we can't have her thinking we're slobs – and today the lawn got a cut in her honour.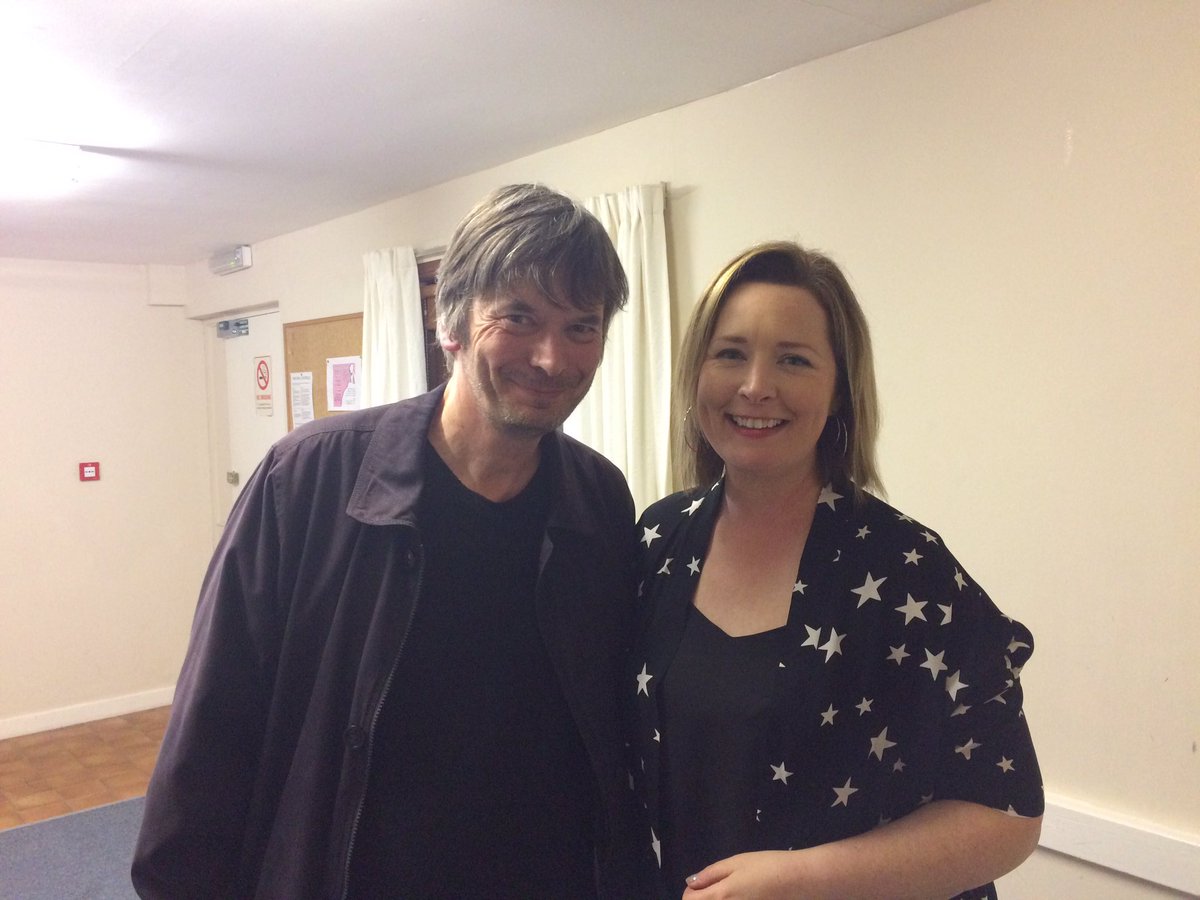 Ian Rankin and Nicola McAlley backstage before the talk. (Not my photo)
At least we'll have plenty of wine to offer our guest. Last night Matchgirl and I travelled the short distance to Culbokie's village hall where the star of the community group's big fundraiser was occasional Cromarty resident Ian Rankin, one of my literary heroes, in conversation with STV's Nicola McAlley, and who very decently drew my ticket for the raffle's first prize – three bottles of M&S plonk (so it should be good) and some nibbles.
This seemed only fair as at the interval I'd spent not far short of the value of the prize on a copy of Rebus's Scotland. I could have got Mr Rankin to sign it and asked Matchgirl to take a snap, but BikerMike already thinks I'm a Rick Wakeman groupie. Which may be true. Not long now until Durham.
Comment from BikerMike at 07:35 on 14 August 2017.
Don't let me deter you from your Groupie antics! ;-)

You convinced me to try one Mr. Rankin's books. I'll start with Knots & Crosses for my Kindle Fire. It'll be about 6th in line to read. In a nonfiction run with Michael Sandel's What More Can't Buy: The Moral Limits of Markets. A slog in itself but very interesting. If you get the chance, see some of his lectures on the Internet. Excellent lecturer.
Comment from Russell at 10:09 on 14 August 2017.
Black and Blue was when he really took off but that's 6 or 7 into the series. You should try Reginald Hill too.
---
Add your comment
Please note that whenever you submit something which may be publicly shown on a website you should take care not to make any statements which could be considered defamatory to any person or organisation.